From October 12 – 14 Their Graces Ambarisa and Braja Vilasa prabhus, lead by Lord Nityananda's Padukas and Lord Nrsimha's Satari visited the Twin Cities of South India, Hyderabad and Secunderabad, as well as Bangalore, for TOVP fundraising events. Aside from the fundraising events, they also met with local government officials and received a great deal of attention from the print media.
Two programs were held in Hyderabad, one for local businessmen who were eager to meet Ambarisa prabhu, the great grandson of Henry Ford, and the second for the local devotee congregation. Almost 1,000 devotees attended and enthusiastically joined in the kirtan, abhisheka and presentations. In Secunderabad over 500 devotees attended and 150+ at the Bangalore event. Over $500,000 in pledges was raised from all the participants!
Of special significance were the meetings between Ambarisa and P. Muralidhar Rao, National General Secretary of the BJP political party for all of South India, and the Governor of Telangana in Tamil Nadu, Dr. Tamilisai Soundrajan. Mr. Rao was especially enthusiastic and promised to arrange programs for Ambarisa in the future.
The media took great interest in Ambarisa's visit and five articles appeared in the press:
The Hindu (Hyderabad):
https://www.thehindu.com/news/cities/Hyderabad/ford-heir-seeks-support-for-iskcon-project/article29675281.ece
The Telangana Today:
https://telanganatoday.com/iskcons-mayapur-in-west-bengal-temple-to-be-worlds-biggest/amp
The Telangana Today:
https://telanganatoday.com/alfred-ford-on-mission-to-fund-biggest-temple/amp?p=332450&__twitter_impression=true
Trending Telugu News
https://trendingtelugunews.com/telugu/henri-ford-great-grandson-building-worlds-largest-hindu-temple-in-mayapur-west-bengal/
The Deccan Chronicle (Hyderabad)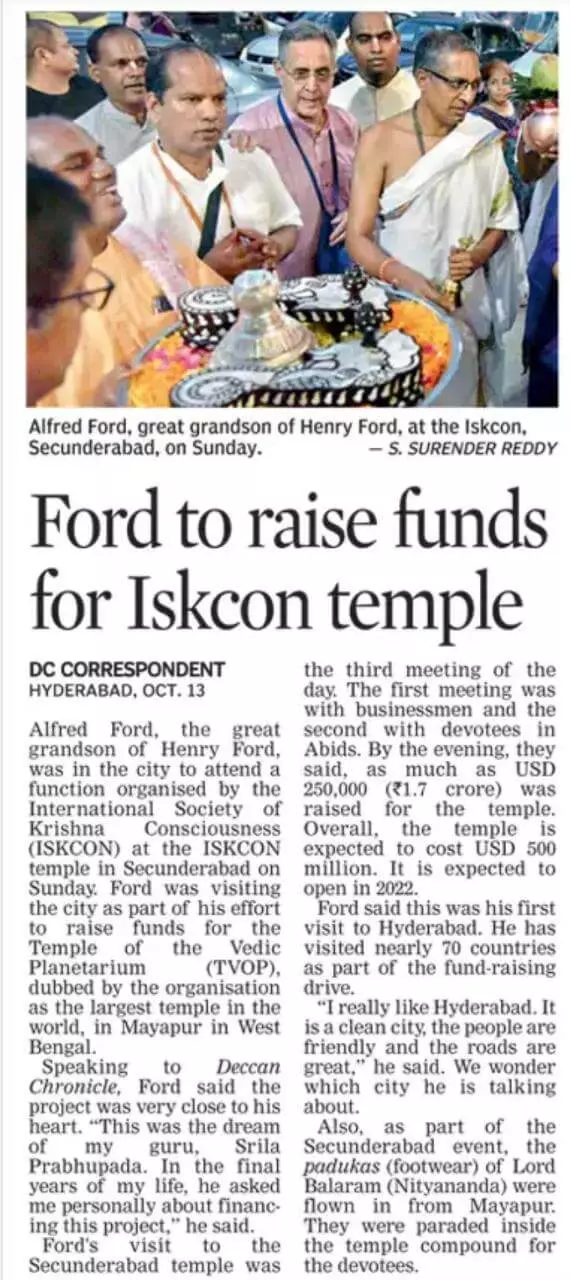 We would especially like to thank His Holiness Jayapataka Swami, the local GBC for his support and encouragement, and the following devotees who made all the arrangements for the programs, special meetings and press interviews:
In Hyderabad
H.G. Varada Krishna prabhu
H.G. Radhesyam prabhu
H.G. Vedanta Caitanya prabhu
H.G. Sitaram prabhu
H.G. Sarasiromani prabhu
H.G. Visnuprasad prabhu
In Secunderabad
H.G. Yudhisthira Govinda prabhu
H.G. Sahadeva prabhu
In Bangalore
H.G. Varada Krishna prabhu
H.G. Harikshetra prabhu
TOVP NEWS AND UPDATES – STAY IN TOUCH
Visit us at: www.tovp.org
Follow us at: www.facebook.com/tovp.mayapur
Watch us at: www.youtube.com/user/tovpinfo
View us 360° at: www.tovp360.org
News & Texts at: https://m.tovp.org/newstexts
RSS News Feed at: https://tovp.org/rss2/
Buy from us at: https://tovp.org/tovp-gift-store/
Support us at: https://tovp.org/donate/seva-opportunities/