In the wake of the historic and landmark opening of the 1.5 acre, 69 rooms TOVP Pujari Floor in February, the TOVP Management is now preparing to open the completed Nrsimha temple wing and altar in 2021. For that purpose we are focusing the Second Annual #GivingTOVP 10 Day Matching Fundraiser from April 26 (Akshaya Tritiya) until May 6 (Nrsimha Caturdasi) for this purpose, and Ambarisa prabhu has pledged to match the total collection up to $150,000.
However, due to the recent India lockdown, ISKCON Mayapur is in a financial crisis and our World Headquarters is in need of assistance from one-and-all members of ISKCON. To help with that cause, Ambarisa and Braja Vilasa prabhus have added an extension campaign to the #GivingTOVP fundraiser called the TOVP Care Emergency Fundraising Campaign in which 10 cents from every dollar donated online will go directly to ISKCON Mayapur. Read more about that here.
The interviews of ISKCON leaders were made prior to the addition of the TOVP Care Campaign, but the importance of both projects cannot be overemphasized. Despite the world situation due to the worldwide Corona virus pandemic, ISKCON and the TOVP must continue at all costs and your one donation will help this combined effort.
To make a donation to the #GivingTOVP & TOVP Care Campaign go here.
Please download the #GivingTOVP & TOVP Care Flyer and spread the word.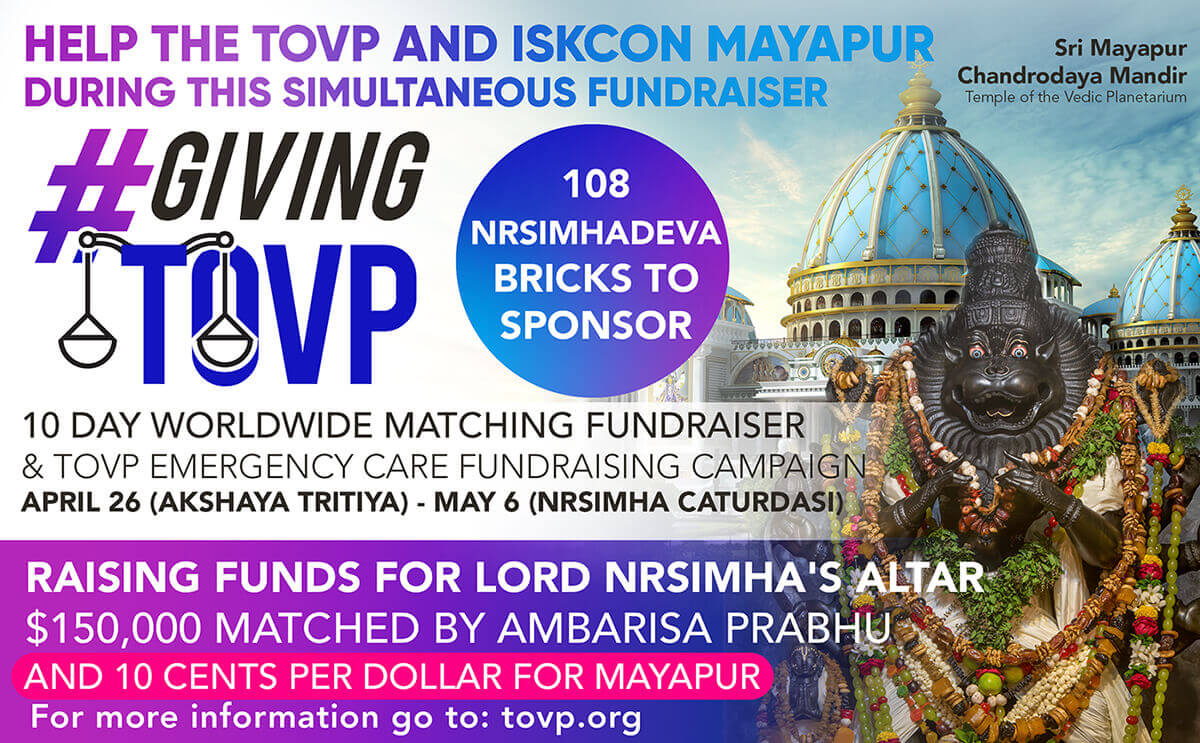 TOVP NEWS AND UPDATES – STAY IN TOUCH
Visit us at: www.tovp.org
Follow us at: www.facebook.com/tovp.mayapur
Watch us at: www.youtube.com/user/tovpinfo
View us 360° at: www.tovp360.org
App at: https://m.tovp.org/app
News & Texts at: https://m.tovp.org/newstexts
RSS News Feed at: https://tovp.org/rss2/
Buy from us at: https://tovp.org/tovp-gift-store/
Support us at: https://tovp.org/donate/seva-opportunities/