On Monday, November 26th the TOVP Management Team held their all important end of the year meeting in Sridham Mayapur headed by TOVP Chairman, His Grace Ambarisa prabhu who flew to India especially for this occasion. Devotees from various departments of the TOVP attended as well as our representatives from Cushman and Wakefield, the world-renowned Project Management Consultancy now working closely with us to complete the TOVP by 2022.
The focus of the meeting was to officially introduce Cushman and Wakefield to the TOVP Team, discuss progress updates and plans for the way forward during the next three years, hear construction team reports on exterior and interior finishing work, and create a combined, focused and well-coordinated effort to complete the TOVP. The meeting began with an inspiring opening message from Ambarisa prabhu about the project and its overall progress over the last nine years, and its worldwide scope and influence.
The representatives of Cushman and Wakefield then received an orientation from all the TOVP Team members, including Sadbhuja prabhu who gave construction updates and Braja Vilasa prabhu who gave financial updates. A site tour was then underway with detailed updates about every aspect of the construction.
With everyone focused and dedicated to the cause, Ambarisa ended the meeting with a moving and emotional statement of Srila Prabhupada's vision and desire to make the TOVP the most important center for Vedic education and training in the world. As Srila Prabhupada said:
"We are going to exhibit the Vedic culture throughout the whole world, and they'll come here. Just like they come to see the Taj Mahal, the architectural culture, they'll come to see the civilization culture, the philosophical culture, the religious culture by practical demonstration with dolls and other things… Actually it will be a unique thing in the world. There is no such thing all over the world. That we shall do. And not only simply showing museum, but educating people to that idea. With factual knowledge, books, not fictitious."
Everyone left the meeting with an increased sense of commitment and enthusiasm, and firm confidence that, together with the continued help of all the devotees worldwide, the MISSION 22 MARATHON will succeed in fulfilling Srila Prabhupada's dream.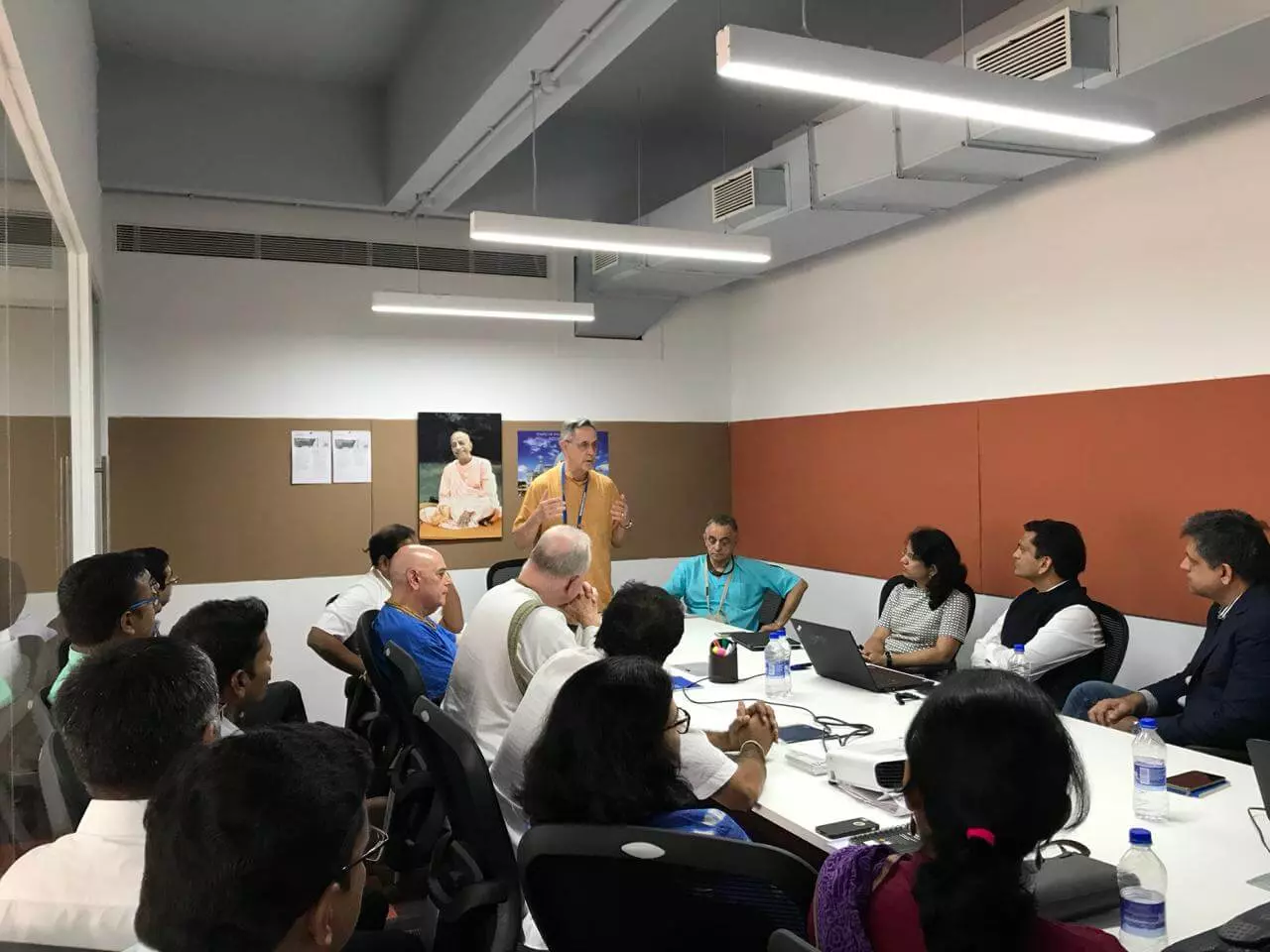 TOVP NEWS AND UPDATES – STAY IN TOUCH
Visit us at: www.tovp.org
Follow us at: www.facebook.com/tovp.mayapur
Watch us at: www.youtube.com/user/tovpinfo
Phone App at: http://tovp.org/news/announcements/new-tovp-phone-app-goes-live/
Mailing List at: https://goo.gl/forms/ojJ2WcUUuqWh8bXt1
Support us at: www.tovp.org/donate/seva-opportunities