Below, the head of the Art Department, Drdha Vrata das answers frequently asked questions.
What are your tasks and process?
My crew and I have been given the task of making the artwork being designed for ToVP. This means, after the designs are finalized either for deities, dioramas or architectural elements, we get it done in the required materials, size and finish.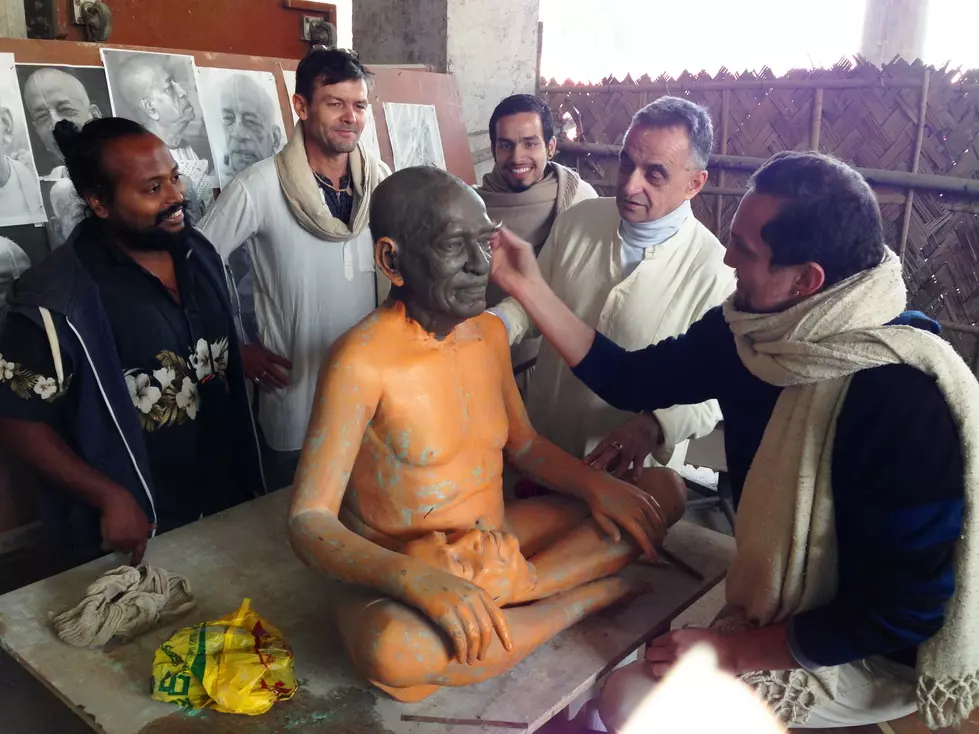 Primarily, we have been working on creating the Guru-Parampara deities, which will be included on the altar line-up, along with Sri Panchattatvas and Sri Radha-Madhava-Astasakhis. The deities of 15 Acharyas from the 6 Goswamis down to Srila Prabhupada, will all be life-size and cast in Bronze.
Our process has been to begin with the clay model of each of the Acharyas, using photo references for the contemporary Acharyas or custom designed drawings, if no photos are available.
Once, we get the required finish in clay, we prepare molds from which we cast our fiber-glass resin prototypes. Once we have all the fiber-glass models ready, we will approach the metal casting foundries to have them cast in bronze.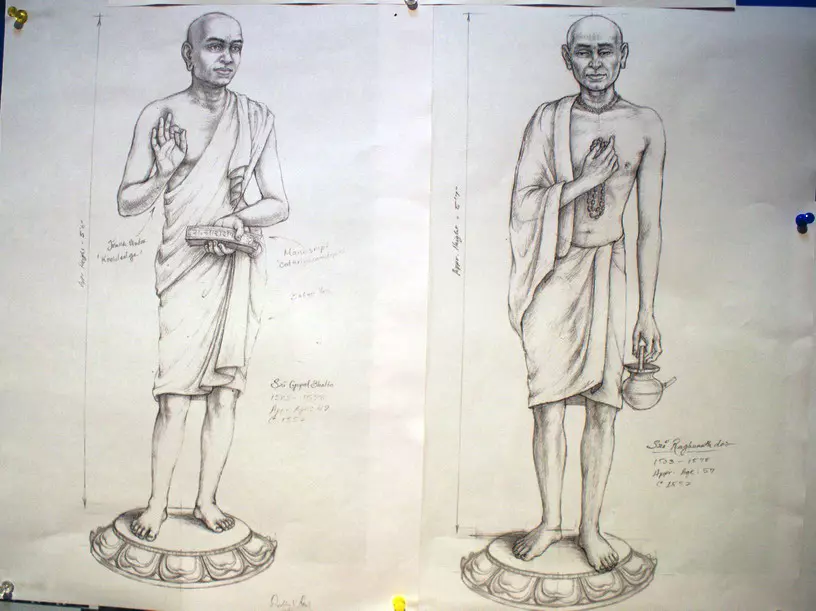 What is the process so far?
Up till now, 9 of the acharyas have been made in fiber-glass. We are now starting with the clay models of the Six Goswamis. The drawing of Gopala Bhatta Goswami has been approved and will be the first to start.
How do you decide on the appearances of the Acharyas?
Well, for instance with Six Goswamis, time and effort has particularly been given to identify and depict in drawing form their appearances before proceeding to sculpting. To ensure authenticity, guidance has been taken from senior devotees such as Jananivas Prabhu.
Considerations include: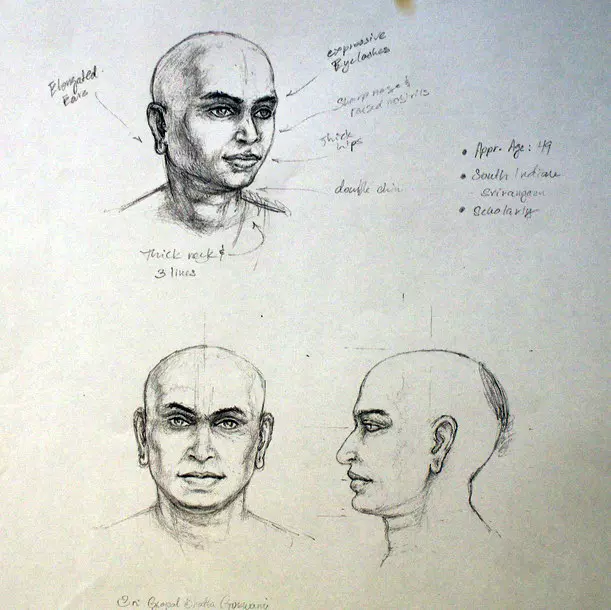 Their teachings
Relative ages
Locality features
Stances and bodily statures
Facial features and expressions
Hand positions, mudras and/or attributes in them
Another example is with the Srila Prabhupada murti; Jananivas prabhu envisioned the Srila Prabhupada murti with a smiling face, rather than the usual grave look on most other murtis. The idea is that Srila Prabhupada should look very pleased by seeing his desire to build ToVP manifest.
What are some of the other things you produce?
We also work on architectural elements, be it full scale column mock-ups or small scale models with design details.
Now we are working on a 30:1 model of the temple Kailash, which will top Parvata Muni prabhu's temple model.
We start by making the basic shape to scale in plaster of paris, and then we proceed to carve the lotus petals and other design details which cover it. This will give everyone an idea of the way it will look with designs, colors and shape on a small scale.