On behalf of Jananivas, Ambarisa, Svaha and Braja Vilas prabhus and the entire TOVP Team, it is with great sorrow and bereavement that we have learned of the passing of one of the TOVP's first heroes, His Grace Sri Nathji prabhu (Dr. N.D. Desai) yesterday, October 17th. We are in shock at his sudden departure at the age of 76 due to heart failure during a visit to Bhutan. It is truly a dark day of loss for the TOVP and for his family. We offer our condolences to his wife, two sons and daughter during this challenging time. His cremation ceremony will be held on October 18th in India. He will be greatly missed by us all.
Yet we are also blissful and confident that he has been blessed by Srila Prabhupada in his forward journey to the Lord's abode. As Srila Prabhupada told Mr. Sethi regarding his helping to build the temple at Juhu, Mumbai, "If you help build this temple, the Lord will build a great temple for you in Vaikuntha", Sri Nathji prabhu will no doubt be similarly rewarded for his seva to the cause of Sridhama Mayapur. As Braja Vilas prabhu relates:
"In 2011 I was living in America and working when Ambarisa prabhu mercifully offered me this greatest seva opportunity to help with fundraising for the TOVP. I agreed even though I had absoulutely no experience doing anything like that before nor any connections in India, having left there years before. In the first month of my new service I somehow had the opportunity to meet Sri Nathji prabhu at Radha Krishna prabhu's house in Chowpatty and we introduced ourselves. I explained to him about the TOVP project and how Ambarisa prabhu had given the seed funding of $22 million to start the project and that it was well underway. He was so inspired by the idea and to hear of Ambarisa prabhu's dedication that, to my surprise and without me even asking, he immediately said he would give $1 million. Ambarisa prabhu and I later visited his home and he immediately gave the full amount. We later found out that this money was originally supposed to be for the Chowpatty temple, but Sri Nathji prabhu, with the permission of his guru, His Holiness Radhanath Swami, had decided to help the TOVP instead. Even at a recent program at his home he received Lord Nityananda's Padukas and Lord Nrsimhadeva's Sitari with great pomp and celebration and performed an abhisheka and arati for Their service. He became like a Grandfather to me, full of love and caring feelings, and always enthusiastic, energetic and entertaining. Our connection was such that I felt I knew him from a previous life. I am deeply aggrieved at this loss and am remorseful that he will not be with us at the Grand Opening of the TOVP in 2022. He was the first donor to the TOVP after Ambarisa prabhu's initial seed funding and this literally kick-started the entire fundraising campaign, and for this service to Mahaprabhu and Srila Prabhupada's mission we are eternally indebted and grateful."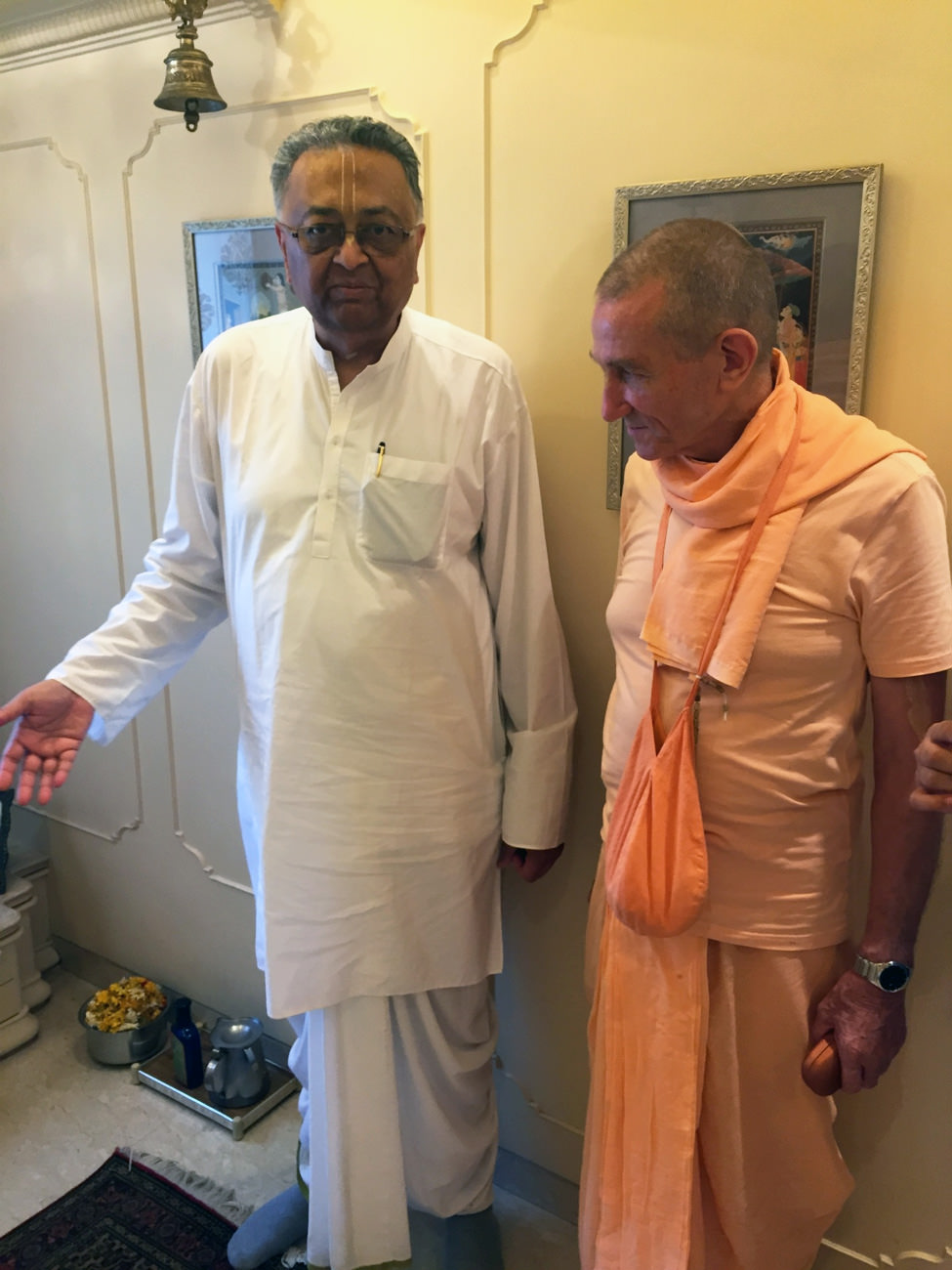 Sri Nathji prabhu was born Narendra Dharmsind Desai on May 22, 1940 in Baroda, Gujarat in India. His mother, Shanta Ben, a Krishna bhakta, prayed that he would become a great devotee of Krishna, even while still in her womb. As explained by Satyaraja das (Steven J. Rosen) in his biographical book, Bhakti-Yoga in Business, The Spiritual Journey of Dr. N.D. Desai,
"When she was pregnant, she prayed several times each day before that picture (of Lord Krishna) for a son that would serve Lord Krishna with full enthusiasm. Years later, when he took initiation as a Vaishnava, she confessed that she was fully satisfied – Krishna had answered her prayers."

Bhakti-Yoga in Business, The Spiritual Journey of Dr. N.D. Desai by Satyaraja das (Steven J. Rosen)
Even after earning his Ph.D. in engineering and eventually becoming a successful businessman, Sri Nathji prabhu incorporated his devotion to Lord Krishna on a practical level. As he explains in Satyaraja prabhu's book, "Both my mother and father, of course, supported the idea that everything belongs to Krishna, and so we eventually incorporated the standard Vaishnava principle of giving fifty percent of our profits to devotional activities, which we did through ISKCON or through other charitable organizations." Satyaraja prabhu adds, "In due course, he would give much, much more than fifty percent. He would give his all."
He finally met Srila Prabhupada in 1971 and his life changed forever. "I first met Srila Prabhupada, my spiritual teacher, in March, 1971 and this changed my life. Meeting a pure devotee has that effect – it brings one to another stage of existence."
With that devotional attitude and with inspiration from Ambarisa prabhu, Sri Nathji prabhu gave his full support to the TOVP. Ambarisa and Svaha prabhus are grateful and thankful for his endearing devotion and we at the TOVP are all eternally indebted to him for his service. Jananivas prabhu will be organizing a special Nrsimha puja in his honor, among other observances.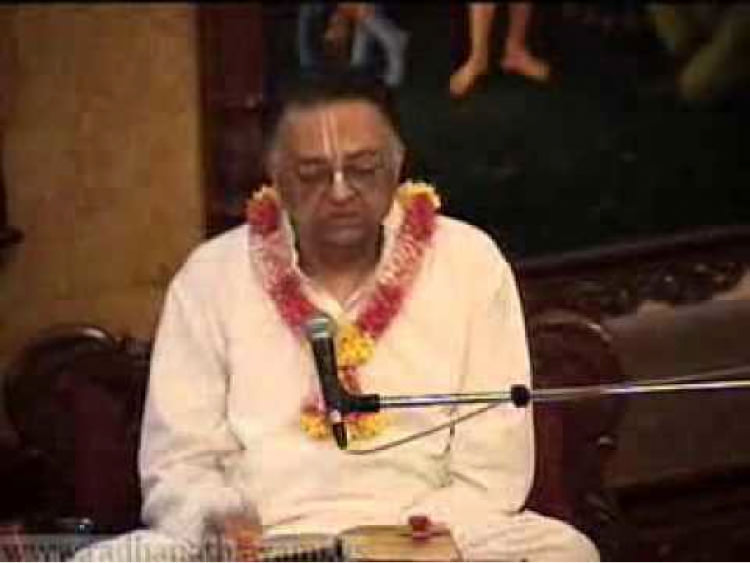 We wish to conclude with this statement from Srila Prabhupada:
"If you help build this temple in Sridhama Mayapur, Srila Bhaktivinoda Thakur will personally come and take you back to Godhead."
We believe this is certainly the case with Sri Nathji prabhu. He was a living example of the ability to live a spiritual life while actively taking part in the workaday world, and is a shining example to all Vaishnavas in that regard. Srila Bhaktivinoda Thakur is undoubtedly pouring his blessings upon him.
All glories to His Grace Sriman Sri Nathji prabhu.
For further biographical information and inspiration about the life of Sri Nathji prabhu, a copy of Satyaraja prabhu's book, Bhakti-Yoga in Business, The Spiritual Journey of Dr. N.D. Desai, can be purchased here:
http://store.krishna.com/bhakti-yoga-in-business-the-spiritual-journey-of-dr-n-d-desai/