This is the 4th and final part of this series of articles. Part 1, Part 2 and Part 3 can be found here. It is the most important because it presents from Srila Bhaktivinoda Thakura's Navadvipa Dhama Mahatmya and Jaiva Dharma the glories of Gauda-mandala in West Bengal, the hundred-petaled lotus with the eight-petaled lotus of Navadvipa-dhama, Mahaprabhu's birthplace (Yogapitha), at its center.
No other tirtha (sacred place) in the universe equals the power of this Navadvipa-dhama at the present time because of its being non-different from the most merciful avatar, Sri Caitanya Mahaprabhu. Thus, it should be easily understood why the grandest and most glorious temple of them all, not just in ISKCON but for all Gaudiya Vaishnavas for preaching the glories of the samkirtana movement should be built in Sridhama Mayapur, which is a part of the divine lotus-like Navadvipa-dhama. In the words of Srila Bhaktivinoda Thakur:
"Those who are trying their best to keep intact the flow of service to Sri Mayapur will be considered the benefactors of the world of Vaisnavas."
Selected Quotes from Jaiva Dharma and Navadvipa Dhama Mahatmya
"Of the seven holy places giving salvation – Ayodhya, Mathura, Gaya, Kashi, Kanchi, Avanti and Dwaravati – Sri Mayapur is the most important place of pilgrimage. Sriman Mahaprabhu with His advent made His own Svetadvipa descend here, and after four centuries after the disappearance of Sriman Mahaprabhu this place of pilgrimage Svetadvipa will be superior to all other places of pilgrimage of the world. Living in this place removes all sin and offenses and helps pure devotion to grow."

Jaiva Dharma – Bhaktivinoda Thakur
"He who lives in Navadvipa-dhama is very fortunate, for he achieves attraction for Krishna. He who happens to go there becomes freed from all offenses. What one attains by traveling to all the holy places is attained just by remembering Navadvipa. In this way the scriptures sing. He who sees Navadvipa-dhama gets ecstatic love of Krsna birth after birth. Even one who goes to Navadvipa desiring to gain material comforts through pious activities will not take another birth. The Sastras say that one who walks around Navadvipa attains the fruit of millions of asvamedha yajnas at every step. And one who lives in Navadvipa and chants mantras obtains the sound of Caitanya as his mantra and easily gets free from maya. What yogis obtain after ten years at other tirthas is obtained in three nights at Navadvipa."

Navadvipa Dhama Mahatmya – Bhaktivinoda Thakur
"Whoever gets the mercy of Lord Nityananda, the master of the sandhini potency, can see that blissful dhama as fully spiritual. The holy rivers such as the Ganges and Yamuna as well as the seven holy cities headed by Prayaga are all situated in various places within Navadvipa-dhama. One who is fortunate can see that this pure realm, Gauda-mandala, is directly the spiritual world."

Navadvipa Dhama Mahatmya – Bhaktivinoda Thakur
"Gaurahari appeared in the beginning of Kali-yuga in Navadvipa by His own internal spiritual potency. Withdrawing the covering of illusion, Gauracandra revealed His eternal pastimes in Gauda-mandala. I see no one in Kali-yuga more unfortunate than that lamentable, wretched person who does not worship such a merciful Lord as Sri Caitanya, or who rejects such an inconceivable dhama as Navadvipa. Therefore, give up all other desires and attractions, and simply fix your mind on Navadvipa-dhama."

Navadvipa Dhama Mahatmya – Bhaktivinoda Thakur
Further glories about Sridhama Mayapur can be read in this article about the creation of Mayapur by Srimati Radharani Herself: https://tovp.org/fundraising/radhastami-2018/
To read more excerpts from the Navadvipa Dhama Mahatmya, download the pdf at the link below.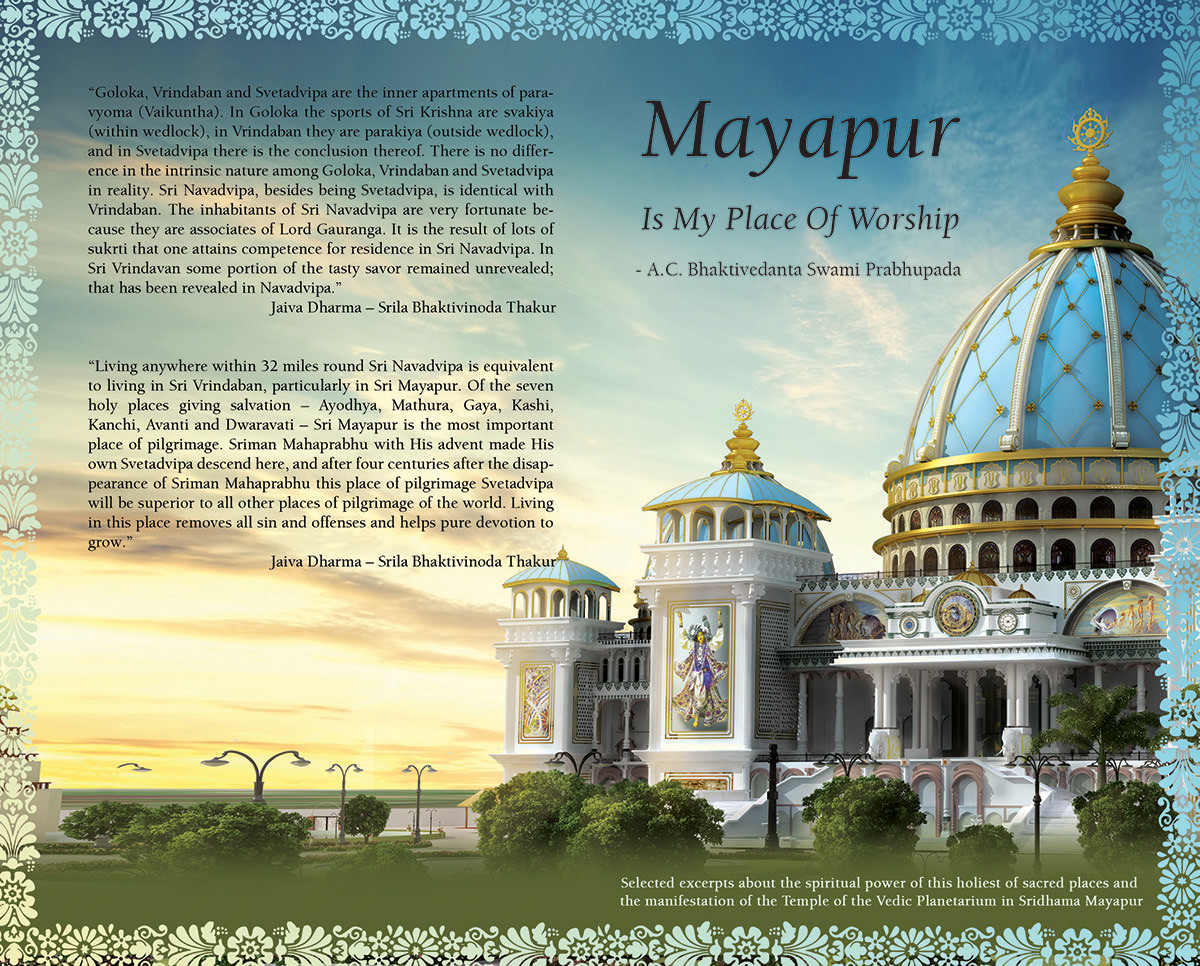 TOVP NEWS AND UPDATES – STAY IN TOUCH
Visit us at: www.tovp.org
Follow us at: www.facebook.com/tovp.mayapur
Watch us at: www.youtube.com/user/tovpinfo
Phone App at: http://tovp.org/news/announcements/new-tovp-phone-app-goes-live/
Mailing List at: https://goo.gl/forms/ojJ2WcUUuqWh8bXt1
Support us at: www.tovp.org/donate/seva-opportunities