From September 6-11, the beautiful city of Anapa in the Russian Federation was transferred into the spiritual realm. Around 5,000 devotees came there for the Sadhu-sanga" Festival. In the opening lecture, His Holiness Bhakti Vijnana Goswami three times mentioned two special guests. As you can guess, he was referring to H.G. Vraja Vilas and H.G. Radha Jivana prabhus from the TOVP. They came to the festival to give promotional presentations, trying to encourage each and everyone to take part it this wonderful project, one to which they have dedicated their own lives.
Mataji Narayani Radha kindly shared with us her impressions after meeting with Vraja Vilas and Radha Jivana prabhus.
The pace of their lifestyle is amazing. We arrived from the airport late evening, and next morning Radha Jivana prabhu gave a Srimad Bhagavatam class for local devotees. All of them became subdued by his lecture. H.G. Mukunda Murari prabhu – a famous preacher and very experienced translator, later admitted that he was so impressed by the speech of Radha Jivana prabhu, that he just tried to transmit his emotions in Russian. However, it required special efforts from him. When the first donation request was made – $150 per square foot – devotees donated immediately.
After that we went to airport and arrived in Anapa. Although Anapa is pleasant town for many tourists, our guests had no desire to relax and enjoy the Black Sea. Once we were approached by a young Christian. He decided to "save" our souls, and politely offered to give up faith in Krishna and take faith in Christ, otherwise we will go to hell. Radha Jivana prabhu very convincingly and with dignity explained to the man that if somebody is talking about such serious topic, at least he should have qualities of a gentleman. It is not good to approach strangers on the street and say that they will go hell because of their faith in God. After that prabhu asked Christian about his goal of life and after getting an answer, he sincerely wished him happiness in fulfilling his goal and reach to the heaven. That point changed mood of confused Christian, and he just wished all the best for our guests.
Invalid Displayed Gallery
Then we put TOVP tent, banners, table, donation box and the other things. Vraja Vilas and Radha Jivan prabhus collected more than $30 000 and gave a generous donation towards Ukrainian devotees suffering because of war.
There were a lot of ISKCON gurus, Srila Prabhupada's disciples and sannyasis at the Festival. They also were talking about importance of participating in TOVP project. H.H. Jayapataka Swami, H.H. Niranjana Swami, H.H. Indradyumna Swami, H.H. Bhakti Vijnana Goswami, H.H. Gopal Krishna Goswami and H.G. Chaitanya Chandra Charan prabhu asked us to participate and take the desire of Srila Prabhupada very seriously. So after lectures many inspired devotees went to the tent and gave their contributions toward TOVP."
In the pictures you can see our fundraising stalwarts, enthusiastically rendering their service to our beloved Srila Prabhupada.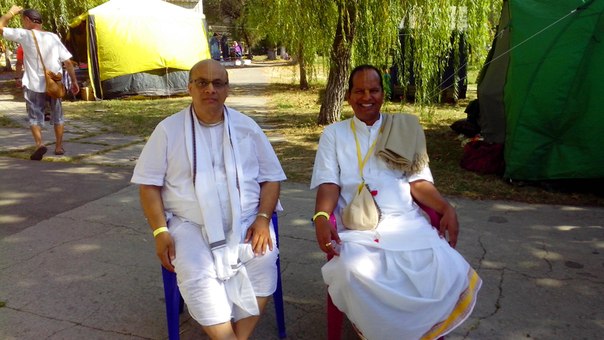 Narayani Radha continued, Vraja Vilas and Radha Jivana prabhus conquered all by their enthusiasm. Every morning they went to Bhagavatam class, gave announcements from the stage, distributed TOVP flyers in the prasadam line, and endlessly talked with the TOVP team and all the devotees at the festival.
On third day we had a "culture shock" – Vraja Vilas and Radha Jivana prabhus moved their table and banner to the middle of the way, blocking almost all paths, and began to preach more loudly. Vraja Vilas prabhu learned some Russian words and began to shout: "Mayapur! Mayapur! HELP! Mayapur! TEMPLE!" knocking on the donation box and putting flyers in devotees' hands. His screaming was so real, just like someone who is drowning and needs urgent help. This is the mood of true preachers…
Then appeared two ten year old boys, Subal and Danil. They collected donations during the entire day and several times came to the tent and put the Lakshmi in the donation box. Subal is very serious devotee. When asked why he is doing this seva, he replied that he does not want to take birth again, he wants to be with Krishna always.
An old mataji came to help Vraja Vilas and Radha Jivana collect donations during the festival.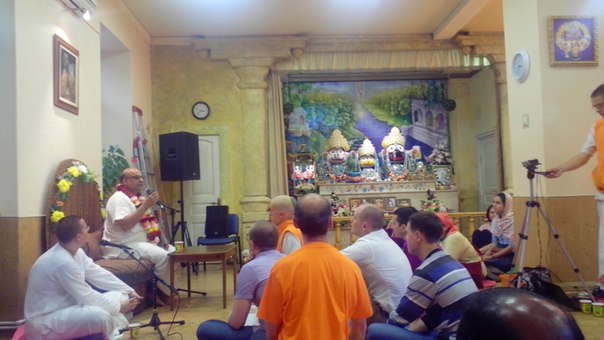 At the end of the festival, Vraja Vilas and Radha Jivana prabhus began to promote the Golden Altar Bricks and Golden Nrsimha Tiles. About 50 bricks and tiles were pledged, and at least 10 devotees from different parts of Russia joined the TOVP team to help raise funds throughout Russia. Radha Jivana prabhu again gave a great lecture at the Moscow Jagannatha temple.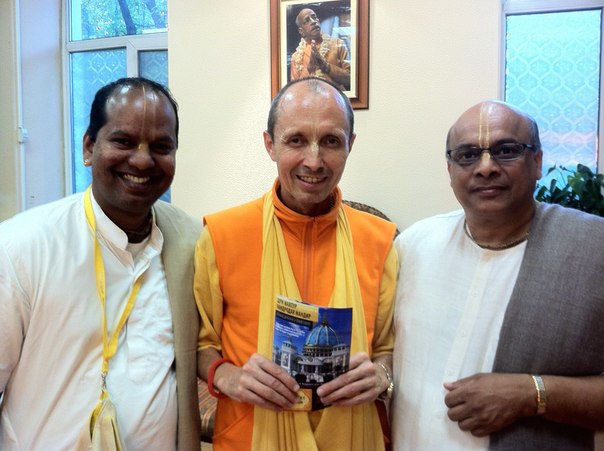 Then H.H. Bhakti Ananta Krishna Maharaj announced that he was going to buy a Golden Brick in his name as the ticket which we can give to the Vishnudutas for carrying us to the spiritual world. After this, 12 more Golden Bricks were pledged. The next day there was a program at another Moscow temple where 10 more Golden Bricks were pledged.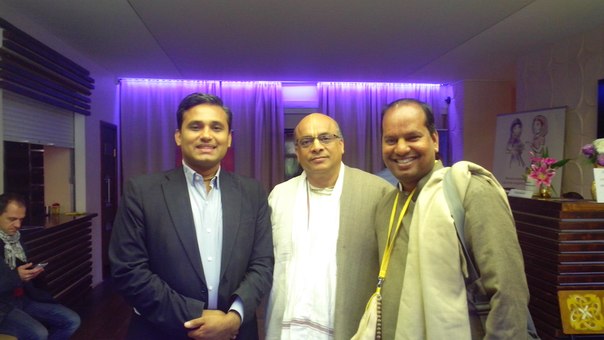 Then Vraja Vilas and Radha Jivana prabhus met the President of the Indian Association in Russia, H.G. Sadhu Priya prabhu. They discussed cooperation with the TOVP project. And, of course, our guests desired to visit famous Red Square where Srila Prabhupada visited and, while walking, predicted the beginning of Krishna Consciousness movement in Russia.
These two souls are always following Srila Prabhupada's footsteps, carrying his mission in their hearts.