Dear Devotees and TOVP Donors,
Please accept our humble obeisances. All glories to Srila Prabhupada.
Greetings from Sridham Mayapur and blessings from Sri Sri Radha-Madhava, Sri Panchatattva and Lord Nrsimhadeva.
Next Friday (May 20th) is the most auspicious appearance day of Lord Narasimhadeva, the half-man half-lion avatara who appeared to save Prahlad Maharaja. Lord Narasimhadeva has a very special mood of affectionate protection towards His devotees, and thus He is very dear to them. In fact, we constantly rely on His shelter. As Srila Prabhupada said,
"We should always consider that this material world is a dangerous place and therefore we shall chant Lord Narasimha's Holy Name in order to be protected by Him in all dangers."

(Letter to Himavati – 4 July, 1970)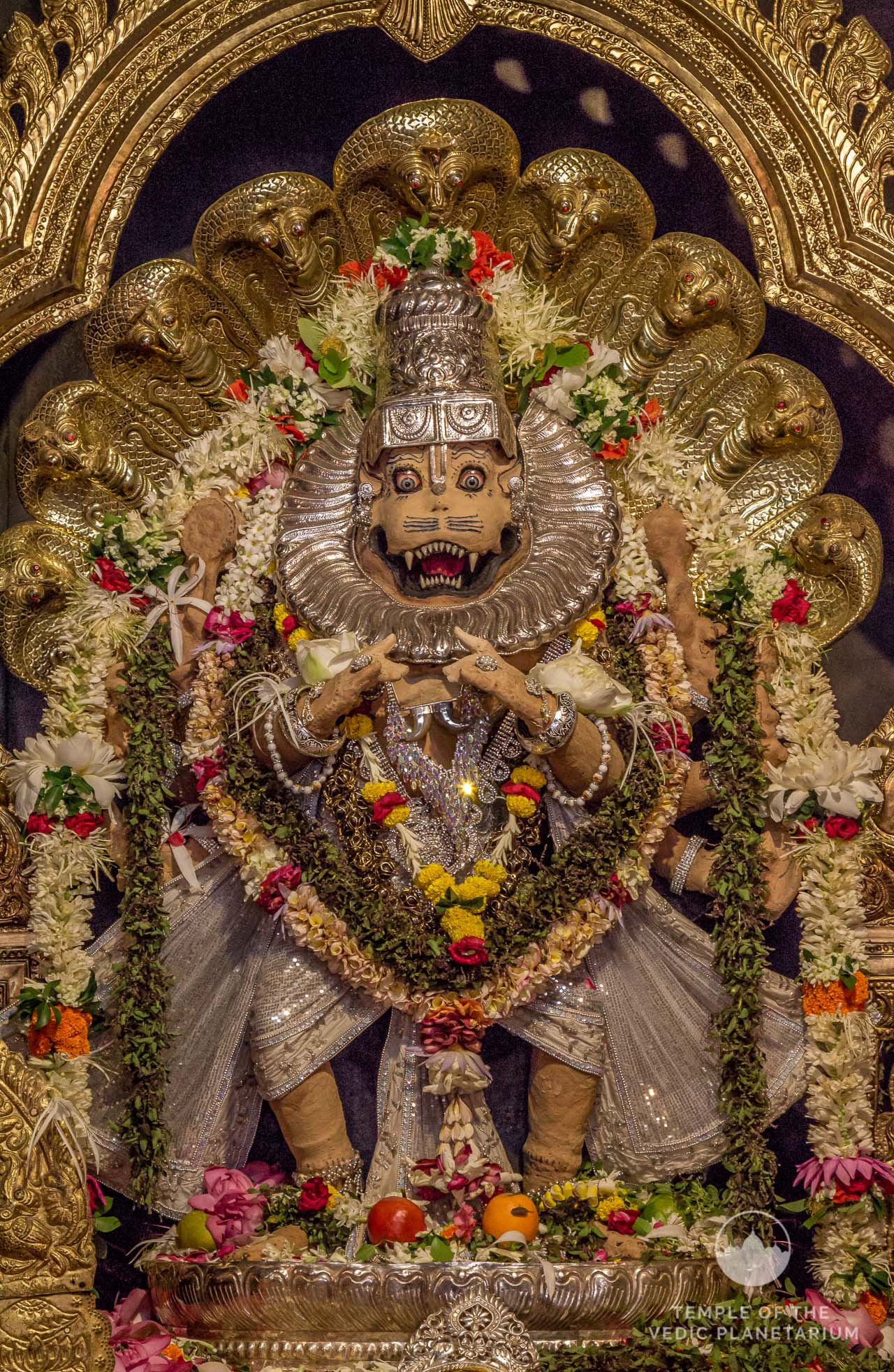 Thirty years ago, after an attack on the temple by dacoits, the Mayapur community decided to install a unique Deity of Lord Narasimhadeva for protection. Both Srila Prabhupada and Srila Bhaktisiddhanta Sarasvati had previously advised other endangered temples to do the same. There are many forms of Lord Narasimhadeva according to His different pastimes and moods, some angry and some peaceful. He is worshiped in Mayapur in His Ugra-Narasimha mood, full of divine wrath.
This specific form emerging from the pillar, Sthanu-Narasimha, is especially fearsome and thus had not been worshipped anywhere for centuries. However, since this Narasimhadeva Deity is in Mayapur, He takes on the forgiving mood of Lord Chaitanya and blesses the sincere devotees with love for Krishna. Begging for this special mercy, Bhaktivinoda Thakur offered this beautiful prayer to Lord Nrsimhadeva:
Weeping, I will beg at the lotus-feet of Lord Narasimhadeva for the benediction of worshipping Radha and Krsna in Navadvipa, perfectly safe and free from all difficulties. When will this Lord Hari, whose terrible form strikes fear into fear itself ever become pleased and show me His mercy?

Sri Navadvipa-bhava-taranga
Narasimha Caturdasi is a very auspicious day to help us build Lord Narasimhadeva's new home in the TOVP. The construction is now focusing on the dome above His altar and its support structure is nearly complete. The next step, one of the most glorious, will be to erect the kalashas on the apex of the domes. We are contracting a Russian company to build and carry out the finishing work for all three kalashas, which will be covered with genuine gold-plating and will truly be the crown-jewels of the TOVP.
It is absolutely essential to cap the domes and complete the kalashas so that the detailed interior work can begin. Once installed, they will increase the auspiciousness of the project, and attract the blessings of the Lord so that the temple can be quickly completed and He can enter and receive worship from His loving devotees.
Please consider making a contribution towards the kalash work. All donations received at this time are going specifically for that purpose. You can make your donation from this page on our website:
https://tovp.org/donate/
Yours in the Service of Sridham Mayapur,
Braja Vilas das
Global Fundraising Director