On September 1, 2021 spiritual history was made. To honor the 125th Birth Anniversary of ISKCON Founder-Acharya Srila Prabhupada, the Honorable Prime Minister of India, Sri Narendra Modi, officially released a commemorative Prabhupada coin. In a 38-minute online event, Prime Minister Modi, Union Minister Sri Kishan Reddy and His Holiness Gopal Krishna Goswami made presentations glorifying Srila Prabhupada to a live audience of thousands of Government officers and ISKCON leaders.
This occasion represents an unprecedented step forward in the advancement of the Krishna consciousness movement and sanatan dharma in India. It also furthers the instruction of Sri Caitanya Mahaprabhu that all people born in India should take to Krishna consciousness and preach this message to the world.
This unique, limited-edition coin is now available to all devotees through the TOVP as a sponsorship that will also help further finance construction. Reserve your coin today as supplies are limited. A two-year installment payment plan is an option for long-term payments.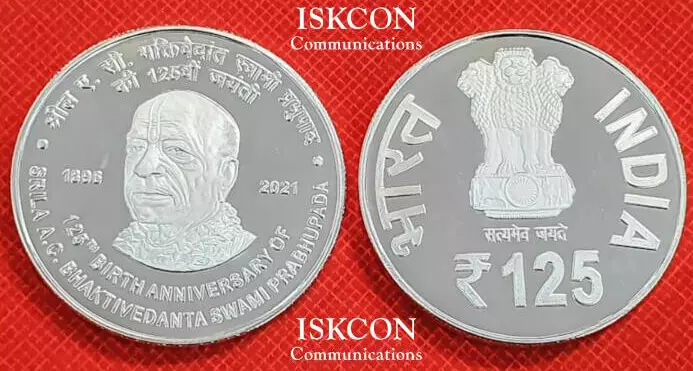 To reserve your coin, use the following buttons:
RESERVE YOUR COIN NOW! (International)
RESERVE YOUR COIN NOW! (India Only!)
PRABHUPADA IS COMING! BUILD THE KINGDOM OF GOD!
"I have given you the Kingdom of God. Now take it, develop it and enjoy it"

Srila Prabhupada, Mayapur, 1973
TOVP NEWS AND UPDATES – STAY IN TOUCH
Visit: www.tovp.org
Support: https://tovp.org/donate/
Email: tovpinfo@gmail.com
Follow: www.facebook.com/tovp.mayapur
Watch: www.youtube.com/c/TOVPinfoTube
View at 360°: www.tovp360.org
Twitter: https://twitter.com/TOVP2022
Telegram: https://t.me/TOVP_GRAM
WhatsApp: https://m.tovp.org/whatsapp
Instagram: https://m.tovp.org/tovpinstagram
App: https://m.tovp.org/app
News & Texts: https://m.tovp.org/newstexts
RSS News Feed: https://tovp.org/rss2/
Store: https://tovp.org/tovp-gift-store/