Recently we sent out the official announcement about the Second Annual #GivingTOVP 10 Day Matching Fundraiser which you can read here. This event starts on April 26 (Akshaya Tritiya) until May 6 (Nrsimha Caturdasi) and is poised to raise over $300,000 to help the completion of Lord Nrsimha's entire East Wing and altar in the TOVP for the opening ceremony during Gaur Purnima 2021.
In this video His Grace Jananivas prabhu speaks about the importance of this fundraiser for completing Lord Nrsimha's temple wing and altar by 2021.
SPECIAL ANNOUNCEMENT
Due to the disastrous effects of the Corona virus pandemic worldwide and the 21 day lock-down in India, ISKCON Mayapur is experiencing a serious financial crisis. On account of this emergency situation, Ambarisa and Braja Vilasa prabhus from the TOVP have decided to help ISKCON Mayapur by creating an extension campaign to the #GivingTOVP Fundraiser called the TOVP Care Emergency Matching Fund Campaign. Ambarisa will match 10 cents for every dollar raised for the #GivingTOVP Fundraiser (online only) and donate it to ISKCON Mayapur.
For more information go ​here​.
Please download and share the #GivingTOVP Fundraiser flyer below.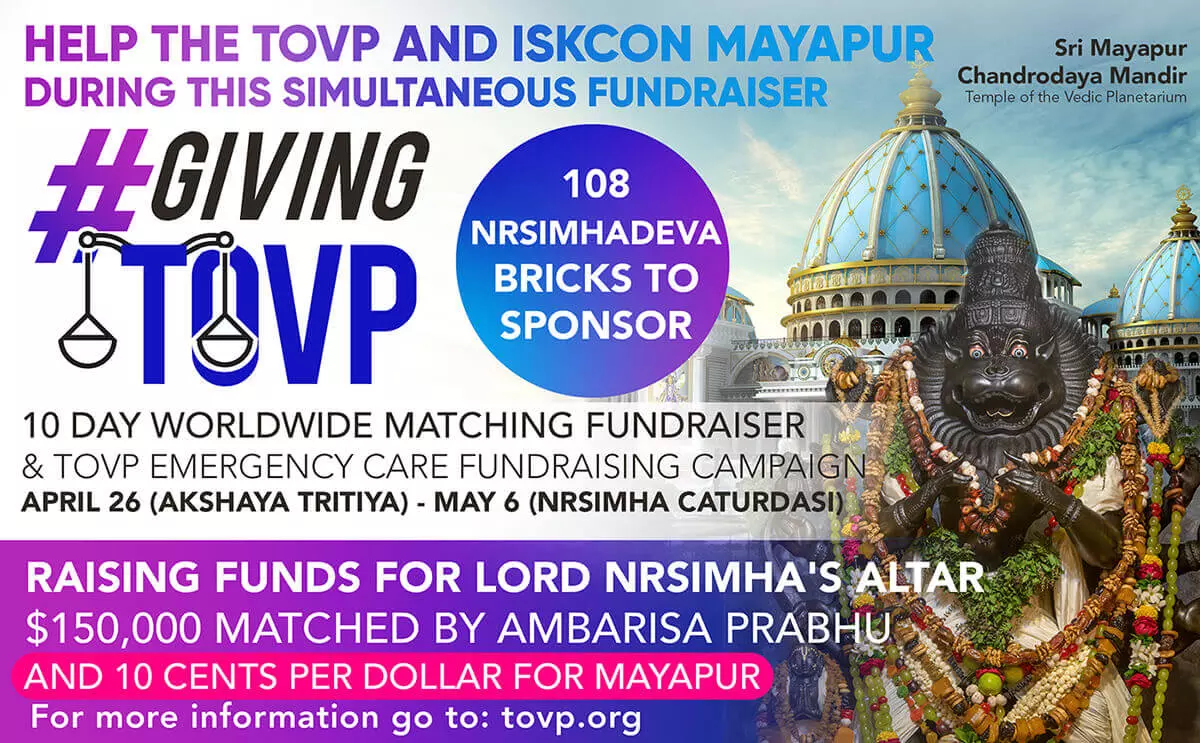 TOVP NEWS AND UPDATES – STAY IN TOUCH
Visit us at: www.tovp.org
Follow us at: www.facebook.com/tovp.mayapur
Watch us at: www.youtube.com/user/tovpinfo
View us 360° at: www.tovp360.org
App at: https://m.tovp.org/app
News & Texts at: https://m.tovp.org/newstexts
RSS News Feed at: https://tovp.org/rss2/
Buy from us at: https://tovp.org/tovp-gift-store/
Support us at: https://tovp.org/donate/seva-opportunities/