On Friday, April 13th we arrived in Koln, Germany and made our way to Gauradesh, home of the Deities Sri Sri Vijay Gauranga Doyal Nitai. Two programs were scheduled here for Saturday and Sunday to accommodate guests who could not come on Saturday.
As usual, the programs included arati, a pushpa abhishek, kirtan and talks by Their Graces Jananivas and Braja Vilas prabhus. His Holiness Bhakti Bhusana Maharaja was also present and spoke very enthusiastically to all the devotees and congregation members present both days.
From the photos you can see that this is a small community of devotees led by temple president, Keshava das. Based on his expectations we were not anticipating any huge financial collections, but were satisfied to bring Lord Nityananda's Padukas and Lord Nrsimhadeva's Sitari to bless the devotees there and receive Their mercy in whatever way They desired. However, to everyone's surprise, this became a miraculous visit with less than fifty devotees pledging over $150,000 U.S.! This precedent setting example shows that the hearts of the devotees and not the size of the temple is what really counts. When there is a will, there is a way. Make the commitment and the means will manifest. This was also Srila Prabhupada's mood.
We wish to thank His Holiness Bhakti Bhusana Maharaja for his inspiring presence, Keshava das for his support, Vidyanath das for organizing the program and Dina Sharana devi dasi (GBC) for her facilitating our visit.
The next stop on the tour is Poland where we will remain for two days. The complete Euro Tour schedule is below.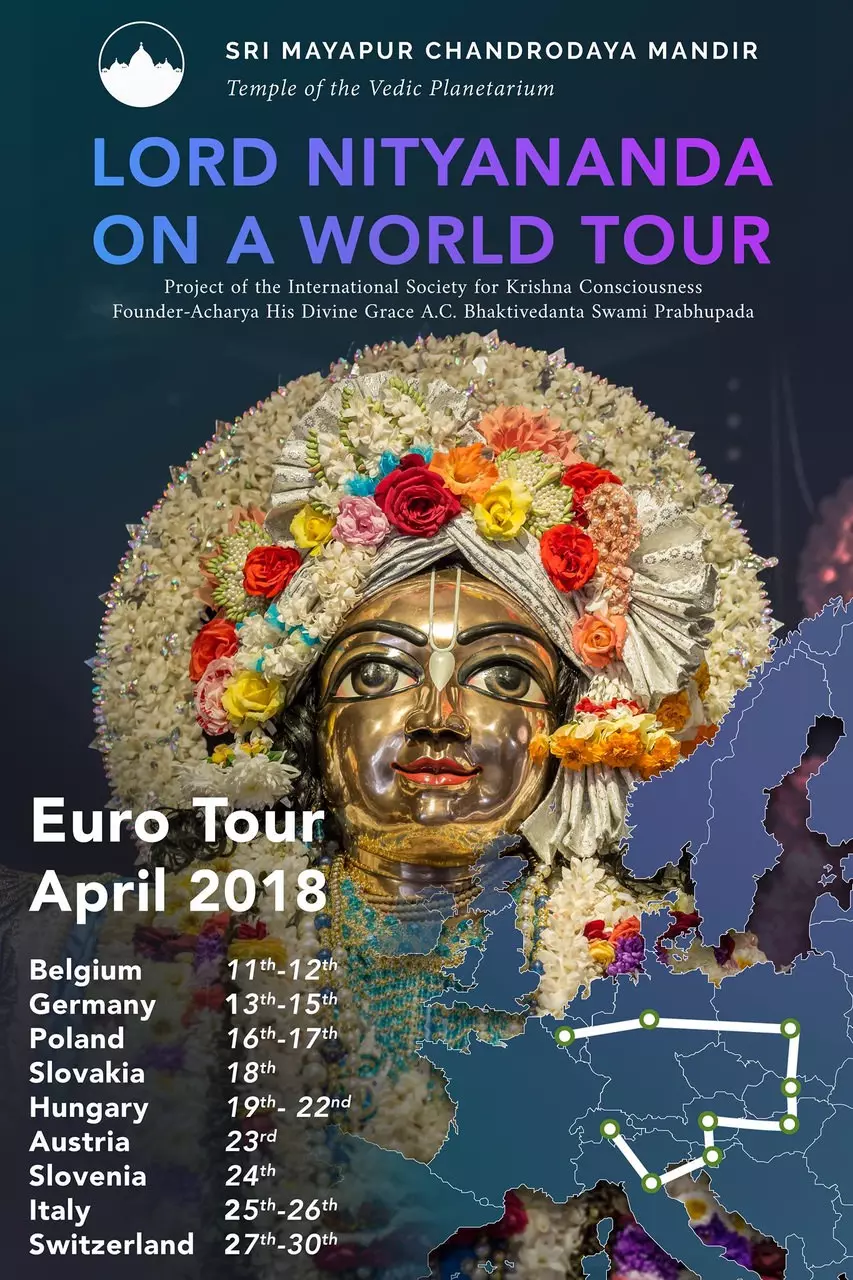 Click on this link to signup for TOVP News and Updates
https://goo.gl/forms/ojJ2WcUUuqWh8bXt1
Visit us at: www.tovp.org
Follow us at: www.facebook.com/tovp.mayapur
Watch us at: www.youtube.com/user/tovpinfo
Support us at: www.tovp.org/donate/seva-opportunities/
Download the TOVP phone App here: http://tovp.org/news/announcements/new-tovp-phone-app-goes-live/