As everyone knows, the Nrsimhadeva Deity will be installed on a separate altar in the East Wing of the Temple of the Vedic Planetarium. The temple room of Nrsimhadeva will be smaller than the central hall, but nevertheless it will be beautifully decorated and very majestic. The Grand Opening of this wing is scheduled for 2023.
One of the features of the Nrsimhadeva temple room, in addition to a huge chandelier, will be eight, two-meter (7') figures of demigods, who, standing on powerful columns from a height of 13 meters (43') above, will gaze at the Deities of Nrsimhadeva and Prahlad Maharaja, and His devotees. One of these eight figures will be the murti of Manu, the progenitor of all humanity, who oversees its development. This announcement is to unveil the completed murti of Manu.
All the murtis are made of fiberglass, and are wonderfully painted by the Russian artist Ambhoda devi dasi, also the painter of the now completed Jaya and Vijaya murtis standing at the entrance of the TOVP.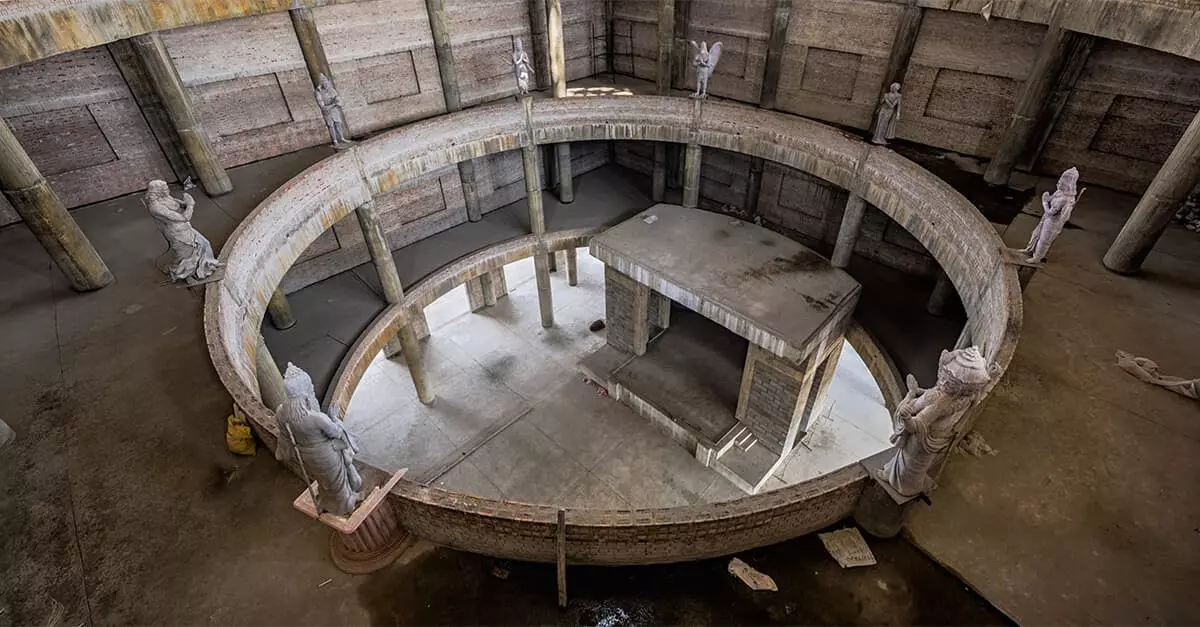 TOVP NEWS AND UPDATES – STAY IN TOUCH
Visit: www.tovp.org
Support: https://tovp.org/donate/
Email: tovpinfo@gmail.com
Follow: www.facebook.com/tovp.mayapur
Watch: www.youtube.com/c/TOVPinfoTube
View at 360°: www.tovp360.org
Twitter: https://twitter.com/TOVP2022
Telegram: https://t.me/TOVP_GRAM
WhatsApp: https://m.tovp.org/whatsapp2
Instagram: https://m.tovp.org/tovpinstagram
App: https://m.tovp.org/app
News & Texts: https://m.tovp.org/newstexts
RSS News Feed: https://tovp.org/rss2/
Store: https://tovp.org/tovp-gift-store/