Read more +
28 January 2016 By Sunanda Das in Construction, Videos
Read more +
21 January 2016 By Prema Manjari Devi Dasi in Fundraising
Read more +
06 January 2016 By Sunanda Das in Fundraising, Inspiration
COMPARISON OF TOVP SIZE AGAINST OTHER MAJOR ARCHITECTURAL LANDMARKS

ToVP dome has the greatest height and width compared to other domes worldwide
ISKCON LEADERS SPEAK OUT ABOUT THE TOVP
VIEW ALL -
04 May 2015 by Sunanda Das, in ISKCON Leaders Speak Out About the TOVP

At the TOVP Tour visit to Los Angeles on the weekend of May 2 & 3, Ambarisa...

READ MORE +

04 May 2015 by Sunanda Das, in ISKCON Leaders Speak Out About the TOVP

His Holiness Bhakti Rasamrita Swami expresses the importance and need of spreadi...

READ MORE +

04 May 2015 by Sunanda Das, in ISKCON Leaders Speak Out About the TOVP

His Holiness Prahladananda Swami explains Srila Prabhupada's vision of spr...

READ MORE +
SRILA PRABHUPADA QUOTES ABOUT TOVP
What did Srila Prabhupada say about ToVP?
My idea is to attract people of the whole world to Mayapur.

26/6/1976 NEW VRINDAVANA - JAYAPATAKA MAHARAJA

Now here in India we are constructing a very large Vedic Planetarium...within the planetarium we will construct a huge, detailed model of the universe as described in the text of the fifth canto of Srimad Bhagavatam. Within the planetarium the model will be studied by onlookers from different levels by use of escalators. Detailed information will be given on open verandahs at the different levels by means of dioramas, charts, films etc.

...We shall show the Vedic conception of planetary system within this material world and above the material world…We are going to exhibit the Vedic culture throughout the whole world, and they'll come here.

27/2/1976 MAYAPUR – MORNING WALK

Now you all together make this Vedic Planetarium very nice, so that people will come and see. From the description of the Srmad-Bhagavatam, you prepare this Vedic Planetarium.

15/6/1976 DETROIT – CONVERSATION IN SRILA PRABHUPADA'S ROOM

And we have asked government to give us 350 acres of land in Mayapur to construct Vedic Planetarium, 350 feet high. It will require eight crores of rupees minimum. I shall exhibit there all the planetary system, bhurloka, Goloka...

12/4/1976 BOMBAY – MORNING WALK

Sources (of funds) means we get contributions from all over the world. All of our branches will gladly contribute. Practically this institution is the real U.N. We have the co-operation from all nations, all religions, all communities, etc. It will be an international institute. To see the Planetarium and how things are universally situated has nothing to do with sectarian ideas. It is a scientific presentation of spiritual life.

6/6/1976 NEW VRINDAVANA – JAYAPATAKA MAHARAJA

We are going to have a very big project at Mayapur. We have to acquire 350 acres of land from the Government and construct a spiritual town... The plans and contemplations are going on in different phases, now when Caitanya Mahaprabhu will be pleased it will be taken up.

26/8/1976 NEW DELHI – DINESH CANDRA SARKAR

Actually it will be an unique thing in the world. There is no such thing all over the world. That we shall do. And not only simply showing museum, but educating people to that idea.

27/2/1976 MAYAPUR – MORNING WALK

Yes, we shall personally supervise everything there at Mayapur, instead of giving everything to contractor. The engineer may simply see that things are being done properly and we shall see that the labor is working properly. Purchase first-class building materials, then there will be first-class building.

17/5/1972 LOS ANGELES – JAYAPATAKA MAHARAJA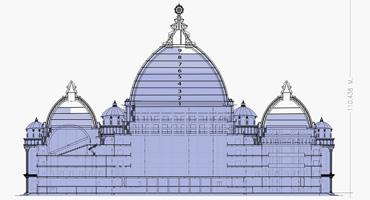 Click to enlarge +
TOVP PROGRESS UPDATE
See latest achievements in construction of the TOVP.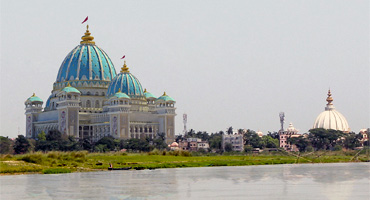 Click to enlarge +
TOVP AT ITS REAL SIZE!
A photo of the TOVP at its actual dimension, next to Srila Prabhupada Pushpa Samadhi, once completed.
THE TOVP UK TOUR NOVEMBER 2015
The ToVP International team will be touring the UK from the 18th to the 30th of November 2015.

You will be able to receive the moonlike benedictions of Lord Nityananda in the form of his Padukas (shoes) along with Lord Nrsimhadeva's protection in the form of his Sitari (helmet).

Jananivasa Prabhu, Ambarisa Prabhu and other senior devotees are touring the world sharing the opportunity to support this signature building of ISKCON.

A once-in-a-life- time opportunity is available to all to invite Jananivas dasa (Head Pujari of ISKCON Mayapur) along with Lord Nityananda's Padukas (shoes) and Lord Nrsimhadeva's Satari (helmet) to your home.
FIND OUT MORE +
Read UK Tour News
Nityananda's Paduka are Coming to United Kingdom
Lord Nityananda's Paduka Home Visit - Once in a Life time Opportunity
DONATE GENEROUSLY FOR THE 'PLEDGE YOUR SUPPORT' ONLINE CAMPAIGN!


PLEDGE YOUR SUPPORT FOR THE TOVP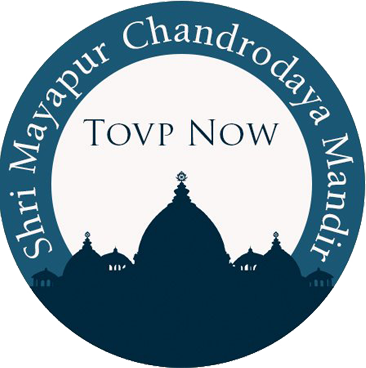 To establish Sridhama Mayapur, the audharya dhama, as the World Headquarters of the Hare Krishna Movement and bring it to the forefront and attention of the entire world, as well as to show our love and gratitude to Srila Prabhupada for this most rare benediction and gift he has given us in the form of the ISKCON society, we all need to work together to make our acharyas' vision become manifest. Srila Prabhupada said that the temple was already built, but we must take this opportunity if we want to be the instruments and receive the transcendental credit, or someone else will.